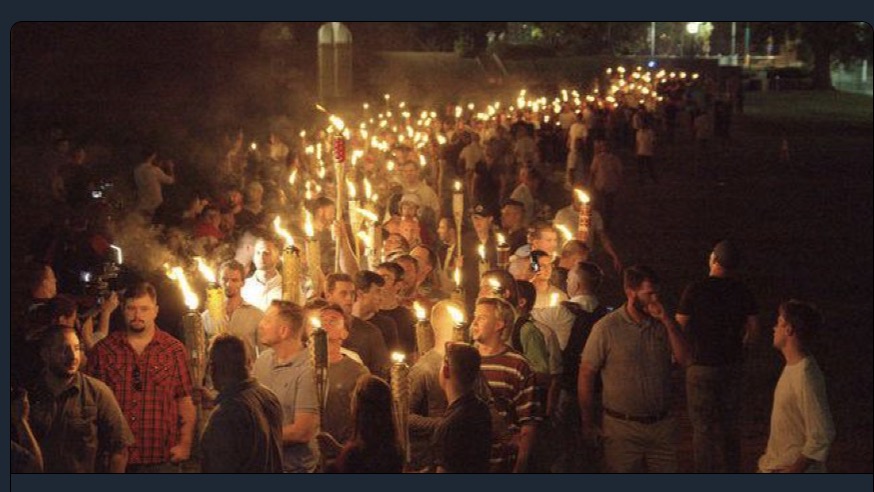 (Reuters) - Hundreds of white marchers with blazing torches clashed briefly with counterprotesters on the Charlottesville campus of the University of Virginia on Friday, the eve of a rally planned by thousands of white nationalists, media said.  
The events highlight a persistent debate in the U.S. South over the display of the Confederate battle flag and other symbols of the rebel side in the Civil War, fought over the issue of slavery.  
The marchers chanted as made their way from Nameless Field through the sprawling campus to the school's Thomas Jefferson statue, where they were met by counterprotesters, an affiliate of NBC news said.
Both groups threw punches and pushed each other as police arrived to break up the clash. A chemical irritant was sprayed into the crowd, NBC29.com reported.  
At least one person was arrested and several on campus were treated for minor injuries, the Daily Progress newspaper said.  
"I am beyond disgusted by this unsanctioned and despicable display of visual intimidation on a college campus," Mayor Mike Singer said in a statement.  
The clash came the night before an estimated 2,000 to 6,000 people were to attend a Unite the Right rally to protest the removal of a statue of Confederate General Robert E. Lee from a public park on Saturday.  
Virginia Governor Terry McAuliffe has said extremist groups have threatened to try and attack rally participants, to express opposition to the statue's removal.
The National Guard is on standby, with Virginia State Police coordinating security in the city of 45,000, the governor said in a statement.  
"I want to urge my fellow Virginians, who may consider joining, either in support or opposition to the planned rally, to make alternative plans," McAuliffe said.  
The rally also aimed to protest against Charlottesville's decision to rename downtown Lee Park, now called Emancipation Park, besides the statue removal. 
Supporters call such statues racially insensitive, while opponents say Confederate symbols honor Southern heritage, and calls to remove them reflect "empty political correctness."  
Lee was a symbol for white people threatened by immigration and "ethnic cleansing," rally organizer and freelance journalist Jason Kessler said in an interview with Pennsylvania's WHLM radio on Thursday.  
City officials had planned to move the event to a larger park beyond downtown, citing safety concerns at the 1-acre (0.4 hectare) Emancipation Park.  
Kessler sued the city, and on Friday night a federal court sided with him. In a subsequent posting on social network Twitter, Kessler said the rally would be held at the downtown park.  
Mimi Arbeit, an organizer of the planned counter-protests, rejected Kessler's argument that the rally was about freedom of speech.  
"Fascism functions by using the institutions of a democracy towards its own ends," she said by telephone.  
Reporting by Ian Simpson in Washington; additional reporting by Bernie Woodall in Fort Lauderdale, Fla. and Brendan O'Brien in Milwaukee; Editing by Frank McGurty and Clarence Fernandez